At the tippity top of my Happy list this week is feeling better all week and not sleeping on the bathroom floor. LOL Always a good thing!
This
moisturizer
is making me WAY happy.
My mom was here for Christmas and insisted I try it. Holy wow! It's heaven!It's the most I've ever spent on moisturizer, but it's worth every penny. Even my husband likes to use it. It seriously makes my skin cashmere soft. I LOVE IT!!
Another Happy list item is how many wonderful friends have placed Scentsy orders to
help us get this trip
. I'm not sure we're going to make it, but either way, I'm so grateful for all the support! If you still plan to order by the 30th to get in on the freebies, be sure to check out the AMAZING
Mamarazzi
! She's offering a prize of her own to anyone who helps us earn the trip!
I don't think I can even tell you how happy my husband is making me. He has been a dream this week. (He's been home alot because the company he recently started working for is being bought out. So far, he still looks ok, but being lowest on the totem pole makes us nervous. Keep your fingers crossed, please.) He has cleaned, grocery shopped, cooked dinner, everything. It's been amazing to just be able to relax. I've had some muscle problems this week, so it was very welcome! I'm so lucky.
It's not too late to write up your happy list!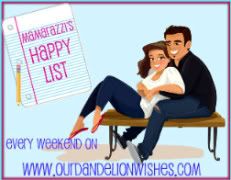 While you're there, check out her Monday give-away!! Perfect thing to brighten up a gloomy Monday!