So, I was blog-hopping again and found this adorable blog for crafters. I LOVE it! Abby did too... She kept going, "whoooo, whoooo!" Cuz of the owl decor.
Anyways, I thought I'd participate in the cute lil "Who are you?" link-up thing. I just Love get to know you questions!!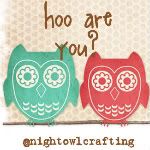 1. How many times a year do you get your hair cut?
Ugh. Unlike the typical girl... I HATE getting my hair cut. I put it off as long as I can. Usually every 12 weeks or so.
2. Where is the worst place to be stuck waiting?
In line for a bathroom when you REALLY need to pee!
3. What are your favorite pizza toppings?
Mmm, chicken, tomatoes, bell pepper, ham, red onions and extra cheese.
4. What's your favorite thing about where you live?
Nashville is beautiful!! There is soooo much to do and most of it's FREE!
5. What's your favorite fruit? Veggie?
I love most of them but my faves would have to be Corn & watermelon