So, I was catching up on confessing with Glam and stumbled onto this super cute blog. I love it!
I especially love her Happy list idea, so I'm jumping in!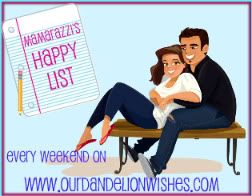 1. My baby. Oh, she is SO two right now it kills me and makes me want to give her to the zoo, but then there are sweet moments. I live for her sweet hugs, making her giggle super hard, feeling those little hands pat my back when I pick her up, the fact that she MUST have a blankie and stuffed animal EVERYwhere she goes.....
She got into my make up and made herself "pitty".
2. My husband. :) He works so hard all day for us and still comes home and cheerfully helps with cleaning, does basically all the folding of laundry because I detest it and helps bathe and get Abby to bed. I love him!
3. Good Hot chocolate with Italian sweet cream coffee mate in it. YUM!
4. Scentsy. I don't know how I lived without it. I used to buy all those jar candles and hoard them until company came over or I really needed one since they're so pricey. I so love that my house smells amazing 24/7 now!
I'm humbled and grateful that we are doing so well selling it. It's helping our family SO much!! If we continue to do well, we could be out of debt and into a house with in a year!!
5. Our big awesome bed, good TC sheets and brand new (birthday gift) comforter that I've been pining over for months. It is the best feeling in the world to end a long day in a cozy, comfy bed. I'm headed there now!
Thanks for reading!