It's 3:25 in the morning and here I sit. Wide-freaking-awake. Ugh. I have to get up in 2.5 hours. Might as well just stay up, eh?
I noticed this week's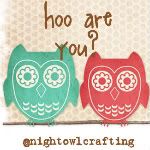 was up already and figured I could be early for a change! Here we go...
1. Name 5 things you are grateful for!
My sweet husband, My beautiful daughter, Hubby's new job and what it means for our family, my Christmas secret and most of all, My Father in Heaven. :)
2. What is you favorite dish at Thanksgiving dinner?
Yum! Apple & onion stuffing, hands down!
3. Do you have any family traditions for Thanksgiving?
Just family togetherness. games, football occasionally going to a movie.
4. Are you staying home or traveling for Thanksgiving?
This year we are staying home and I'm cooking. We usually go to my Dad's family's get together. It's huge (he's one of 16 children) and interesting but over the years, the food has been less and less traditional. I didn't want lasanga and fried chicken for Thanksgiving. ;) So, we are going to have our own, small Thanksgiving. I couldnt be happier.
5. What else do you do on Thanksgiving day besides eat?
See #3
Happy Turkey Day, everyone!